for ordering write / paypal rymars at gmail dot com or send check or money order to 112 Hanna st Carrboro NC 27510
HAVES & THIRDS - It's Mostly Guess Work / It'll Clean You Out But It Will Leave You Hollow Inside double EP / 12" vinyl
. 300 copies. 13$ ppd.
Hot Releases is proud to announce the long overdue full-length 12" vinyl debut of Tampa, Florida mover & mainstay Todd Lynn's project Haves & Thirds. Active for well over a decade, previous releases have been a fantastic stream of cassettes and vinyl compilation appearances. Each side is a separate EP, paying tributes to screen greats River Phoenix and Leslie Nielsen. The Haves & Thirds style has remained relatively consistent though the years, with appropriated and original beats overlaid with Factory-strength chiming guitar, synth, and movie samples that alchemically produce some of the most addictive, dreamiest music in the underground. This recording, however, features a noticeable step-up in production, with a clarity that reinforces H&T's unique vision and bass frequencies capable of rattling most domiciles. As somewhat of an aside, Todd also operates one of my top two favorite labels of all-time, Cephia's Treat, which he co-founded with his equally musically formidable brother Ian Lynn. I strongly recommend seeking the label out and making purchases, they're all affordable, hard to go wrong with, and cover a variety of underground styles - noise rock, noise, ineffable electronic music in various modes, bedroom pop, bands of different stripes, more - that also serve as a document of diverse outsider scene shining in the rough, marked with a history of playing shows in unconventional spaces (bus-stops, underpasses, storage spaces, etc) that fostered the likes of Russian Tsarcasm/Tsarlag, Pro Bro Gold, Byron House, T Func, YUKhONIC, EN, Ant Parade, MLU, Limp Lungs, FiFi, Father Finger, Skeleton Warrior, Parts & Pieces, Then & Than, among others. For more info check out
www.cephiastreat.com/
Samples :
"Make The Stand"
"A Creeping Tide"
TEAADORA - Virgin Forever LP w/ bonus one-sided record
. 16$ ppd.
The debut album of young midwesterner Teaadora Nikolava is a collection of songs and incantations with an unnerving and affecting core of fragility and intensity primarily based around voice and guitar, though often with noise floating along the edges, background to foreground - there's a raw sense of melancholy but also sweetness and a sort of uncompromising loveliness, though the poppier sensibilities are tempered with a vague feeling that somebody's relatives are possibly oozing up from beneath the floorboards. Many transcendent late night emotions to be found on this one. Includes a one-sided bonus disc featuring excellent early, barely released, and live material for your listening pleasure.
Samples:
"Pre-agriculture Languageless Culture"
"Wake Up Call"
Video for "Pre-agriculture Languageless Culture":
Teaadora - Pre-Agricultural Languageless Culture
from
No Fear Of Pop
on
Vimeo
.
TRACEY TRANCE - Florissant cassette, c-32
. 6$ppd.
Extended live and low-fi organ and keyboard warm weather jams that jaunt along with an Ethiopiques vibe in places, with the potential to blossom into reggae. Sounds amazing even on the tiniest of speakers. Open the doors and windows, step outside, listen to baseball, look at photos of the Rockies.
Sample :
Side A
Russian Tsarlag / Secret Boyfriend - split LP
. 13$ ppd.
Long in the works split lp finally made available. Two complimentary sides of otherworldly, out-of-time romantic / downer tunes evocative of a woman descending a glass staircase. An early review from P Maier : "Grace is a distant glimmer, but at least champagne is in hand. This split is definitely needed by all."
samples:
Russian Tsarlag - "Last Hand on the Door"
Secret Boyfriend - "Toy Prison"
Inspector 22 - Passin Time lp
. 13$ ppd.
After well over a decade of cd-r and cassette releases from the likes of Dontrustheruin and Therapy Tapes, this the first 12" vinyl statement from Todd Emmert's Inspector 22 project. 10 blown out Satanic and death-obsessed folk songs with a pleasingly bent guitar style. Lay down the pipe - death has come, time is near -
sample:
"Passin Time"
fan-made vids:


JEFFERSON MAYDAY MAYDAY - G Threshold LP
. Cosmic / spiritual / meandering psychedelia with a touch of "Forbidden Planet"-style soundtracks on the debut LP from Cayce SC's long-running, multi-talented NASA-employed teacher, visual artist, space creator and musical talent - also the purveyor of the sumptuous psychedelic collage / re-appropriated childhood home that is the Immaginarium. Recorded in Australia and the Immaginarium, G THRESHOLD is comprised of very unusual, deeply layered pieces featuring piano, synth, drums, and some guitar recorded on Danger Island, in addition to a host of other inscrutable sounds that welcome you to Jefferson's unique headspace. Music to kill your ego to. Slow-burn re-entry. 3-D Art (glasses not included). 300 copies. 13$ppd.
Foxy Digitalis Review

UNICORN HARD-ON / CONTAINER split LP
. Killer + complimentary split from two of the US underground's finest, a vital document of this curious shift from noise to beats in the subterranean circuits. Two slammers with disorientingly haunted vox from Unicorn Hard-On, one epic slab of surgical techno from Container. "New mutant techno for a generation that managed to avoid the cerebral glitter bomb thatwas the '90s beat scene. A.D.D. symptoms are waning and delayed gratification is "in"." Co-release with More Records. 13$ppd.
Listen:
Unicorn Hard-On "Persian Cats"
Container: "Cauterize"
Foxy Digitalis review
MTVE Recommended review
Killed In Cars review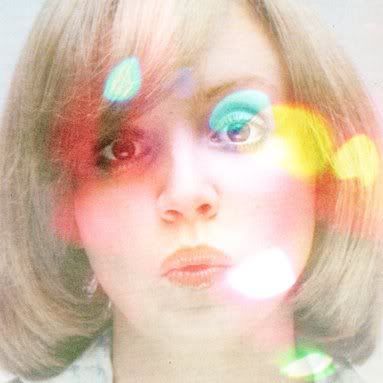 Container LIVE :
Unicorn Hard-On LIVE :


MEAGER SUNLIGHT / SKELETON WARRIOR - SEASONS OF NUDITY split LP. 13$ ppd. Co-release w/ Good God Energy Chronicles, More Records, Roofless.
M.S. = Providence duo of Jeremy Harris (Lazy Magnet) and Daryl Seaver (Bee Man Glow, Supernaturelle) - the best sounds of ebm, house, italo tastefully married to on-point pop sensibilities. Sounds huge. Skeleton Warrior is a highly eccentric synth + heavy narrative duo from Tampa, FL.
Foxy Digitalis Review


MOTORCYCLES - WONDER WHY 7"
. 5$ ppd. Recent excursion into guitars + drums indie rock for Matt Franco of Holy Family Parish, American Band, Air Conditioning and Allentown cohorts.
An anthemic slice of pop on the A-side followed by an unsettling descent into discomfort on the flip.
Listen
VVAQRT - "Than on eother and you have 0 answers" LP
. 13$.
(pronounced Vak-art or Vak-ert) = dark, crumbling consciousness saturnine minimal-synth pop automatons / dance-floor alienators from Saxapahaw, NC. Well-recorded, tightly-wound succinct synth sculptures are coupled with ornately mangled text, evoking a mind forcefed too much useless information that has begun to froth and die .... We're very proud of this one, the HOT record with the strongest, bitterest pop appeal so far. Pro-printed jackets.
( check
here
and
here
for sound samples )
Still Single review

HORAFLORA / SECRET BOYFRIEND split LP
. *SOLD OUT AT SOURCE*
Horaflora is Raub Roy. You may have caught him during his 2008 bicycle tour down from New England, where, using a clever and economical system that included a hand drum, trumpet mouth piece, balloon, computer sub-woofer, transducers, hand-held tape recorders and various found objects, he created immersive shuddering mecha-organic sound environments in country idylls and homes... At the show I saw, empty cans and scrap metal rattled to the same pulse, balloons exhaled lost-in-the-fog tones on the taut drum skin, tapes whirred weird in their lascivious carriage in the front and back : the sum being a barnyard of coldly throbbing sounds from all angles harmonizing with the resident frogs and insects. Two years later we have this, the vinyl debut of both Horaflora and Secret Boyfriend. On his side, Raub wrings pleasingly alien sounds from his systems - taken in this instance from a live session with Andrea Williams on KALX. The electro-acoustic room-rattling is crisply recorded but still very inscrutable ... strange sounds mingling spatially guided by unseen hands of a restless poltergiest . . .
The Secret Boyfriend side begins in the still room where Horaflora left us, oozes and flirts with a baroque chamber mentality giving away to exquisite / blown speaker melodies and drooling song-form, morbid and tender. A sense of calm and peripheral melancholy is held, abrasion dialed back. One quarter alive in a cold apartment for twenty years. The windows now open..
pro-printed jackets, 300 copies
check here and here
for sound samples
JEFF REHNLUND - SMOKE FROM THE MIRROR LP. 13$

Mostly recorded during a year in Las Cruces, New Mexico with a reverb unit and other gear found in a spider- and cat-infested geodesic dome in the desert. "Smoke" is a mottled sound diary of sweltering mutant pop, distressed voices, sweaty-dense-and-deep drone in a wider, darker sky, wretching cassettes, sparse stone garden melody, gamelan, plus a lengthy field recording of an exorcism in India that was interrupted by a wandering bull. All tracks evoke an overwhelming sense of HEAT and empty SPACE, LIFE and DEATH, distance, isolation - carved withbroader, more direct gestures than Jeff's previous releases, but still with flourishes of his trademark bewildering, confusing sonic style. Pro-printed jacket, 300 copies.
Sound samples HERE
M.B. - Plays the Clockwork Orange LP.
13$
Reissue of a February 1980 decomposition from the Italian industrial forereunner. Halting cut-ups of the classical score from the film for the elegant, subterranean. One of the strangest M.B. recordings I've heard! Pro-printed jacket.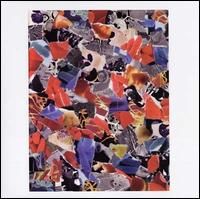 RYAN JEWELL - Eschew Obfuscation / Espouse Elucidation LP
. 13$.
First full-length LP from the Columbus, OH musician, improviser and sound artist after collaborating with a diverse array of folks such as Greg Kelley, C. Spencer Yeh, Nate Wooley, Christine Sehnaoui, Bhob Rainey, Jandek, Mike Shiflet, Envenomist, Larry Marotta, Vic Rawlings, Fossils, Rafael Toral, Psychedelic Horseshit, Pink Reason, Jason Zeh, Wasteland Jazz Unit, and many more. Side A is one long stereo-melting, ear-bending composition that evokes the best sense of surprise of harsh cut-up noise, except with organic sounds manipulated with some Pierre Henry level finesse, compiled from about 9-10 years of material including early tape experiments, live recordings, unreleased new material, re-edited previously released material, Hi-fi, low-fi, etc. Recorded in Ohio, in a creek in West Virginia, as a teenager in a car while on the country music highway in Kentucky, in the middle of a street in New Zealand - heavily spliced and edited with razorblades and mouse clicks into the form of the composition. Side B focuses on deep drones, long tones wrought with patience and intensity from a lone drum - a kind compliment to the frenzy of the first half. Mastered by Bhob Rainey, with art by Dylan Nyoukis. 300 Copies, pro-printed art. Sound samples
HERE
Agit Reader review
BOYZONE - MENARCHE LP
- 8$.
First splash by NC noise band, now duo, collecting detritius from their 'ensemble period' from 2006-2008 - a bewitched mosaic of open circuit melodies, EVP, cassette dragging, casio-moaning, tape decomposition, dreamy confusion ebbing towards harshness, coalescing into a final metal echo. 250 copies, paste-on art. Sound samples
HERE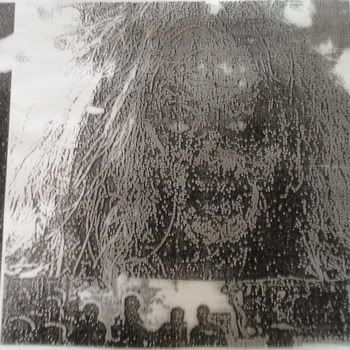 JEFF REHNLUND - GANGNAM BASEMENT LP
- 10$
Songs and field recordings from up and down the Korean peninsula and under the ground during 2006-2007: native winds and bells, charismatic tongues, mountain shamans, fauna, charms, university innards, resurrected ancestors, missteps, ceremony, morning, winter, night, glass rooms beneath Gangnam, totem + taboo; concluded with nitrous-damaged pop songs, Bowie cover and cellphone karaoke. Paste-on art, 300 copies. Sound samples
HERE
AMERICAN BAND - LOW FICTION LP
- 10$
Great 2nd full-length collaboration between Lee Counts, Matt Franco (of Air Conditioning, Holy Family Parish), and Jason Crumer (of noise, Now In Darkness World Stops Turning, Amazing Grace, and Facedowninshit). Acoustic and processed power tools on scrap metal. This record is more spare and moody than their first, lush and industrial, elegiac sanders and spareness building up and blasting away from somber to near rapture. paste-on art. Sound samples
here

for ordering write / paypal rymars at gmail dot com or send check or money order to 112 Hanna st Carrboro NC 27510